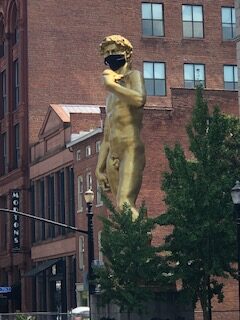 Taylor Court Reporters KY is now scheduling in-person depositions. Likewise, we are still booking remote depositions. Looking for a deposition conference room in Louisville and Lexington? Our large conference rooms allow you plenty of room to socially distance. As a result, you and your clients can feel safe. Kentucky still mandates face masks.
While COVID remains an ongoing concern, we commit to following COVID safety protocols under our control.
Kentucky is Open for Business
COVID restrictions are being lifted. Offices, restaurants, and hotels, and bars are reopening or expanding hours. Fewer restrictions means people are coming downtown to work and play. Excitment is growing as we plan our new normal. So yes, Kentucky is open for business.
Keeneland racetrack ends a successful Spring Meet on Friday, April 23, 2021. The racing world then turns to Louisville, Kentucky, and The 147th Kentucky Derby.
Opening day at Churchill Downs, is Saturday, April 24, 2021.  This year the running of the Kentucky Derby is Saturday, May 1st and Louisville, Kentucky, will be ready for a party. So as we celebrate the Thoroughbred's Run for the Roses, we too celebrate our city.
Conference Rooms Open to In-Person Depositions
We want to welcome you to our Louisville, Kentucky deposition conference rooms.  Staying overnight? Why not spend the night in one of our neighborhood hotels? You can walk to the Omni, the Marriott, and just steps away is the Hyatt Hotel.  Restaurants like Gordon Biersch and Jeff Ruby's are also in walking distance.  Most restaurants offer dine-in, takeout, and delivery. Be sure to ask your court reporter and/or legal videographer for recomendations.  We can help!
Do you have depositions in Lexington, Kentucky? No problem. Our Lexington deposition conference rooms are open and ready for your next deposition. We are conveniently located just 10 minutes from Lexington's Blue Grass Airport. You can find plenty of hotel and restaurant choices in Lexington.  Let us know if you're looking for a good restaurant, we've got some great ideas you just might like.
Now Scheduling In-Person Depositions
So now that you know we are open to remote and in-person depositions, what are you waiting for? Why not use our deposition Quick Scheduler below when scheduling our court reporting services in Lexington and Louisville. If you'd like to give us a call, we'd love to hear from you.
Call (502) 671-8110 for our Louisville KY court reporters and deposition conference rooms.
Call (859) 270-2940 for our LexingtonKY Court Reporters and deposition conference rooms.
We'll be glad to see you!