Court Reporters Vote Your Future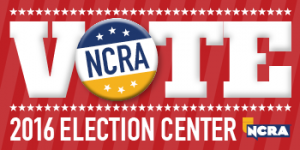 If you're not going to Chicago for the National Court Reporters Association annual convention, #NCRA16, and you'd like to vote online for five constitution & bylaws amendments, as well as vice president, secretary-treasurer, and one director's seat, it's as easy as 1, 2, 3.
Follow the steps below and vote tomorrow, Thursday, Aug. 4. The online vote will start within two hours after the close of the Annual Business Meeting on Aug. 4, 2016. The Annual Business Meeting takes place 8:30 – 11:00 a.m. and will be streamed live via the Internet.
Step 1. If your NCRA membership record already includes an active e-mail address, you need do nothing more to participate in the voting process. (You can verify whether NCRA has a current email address for you by reviewing your member profile or by contacting NCRA's Member Services and Information Center by email, or by calling 800-272-6272 (NCRA). The deadline for registering any changes to your e-mail address is July 15, 2016.
Step 2. All eligible voting members will receive an email at that address within two hours of the adjournment of the Annual Business Meeting on Aug. 4, 2016, containing a link to the secure voting site.
Step 3. You will be asked to enter your NCRA ID number followed by your NCRA online password. (If you have forgotten your password, you may retrieve your password here, then enter your NCRA ID, and your login credentials will be emailed to the email address we have on record.) Once logged in, members enter the secure voting website and vote.
Good luck to all the candidates!