Albany Kentucky Court Reporters and Video Deposition Services
(502) 671-8110
Taylor Court Reporting serves the Albany, Kentucky area with qualified and experienced professional court reporters and legal deposition videographers. We will assist you with booking a deposition room, court reporter, interpreter and video deposition services in Albany, Kentucky, and the surrounding Clinton County, Kentucky area. Our helpful and courteous full-time office staff will assist you in scheduling depositions and understanding the latest technologies, such as the newest free Westlaw E-Transcript viewer, video-to-text synchronization, Dropbox, and secure online transcript delivery.
Contact Taylor Court Reporters today for all your court reporting and video deposition needs.  With our forty-plus years of experience, we bring the technology, know-how and convenience of a one-stop approach to all your litigation needs.  Make one call to Taylor Court Reporting Kentucky and we'll take care of the rest.
Albany, Kentucky is the county seat of Clinton County and is located in the southeastern region of Kentucky between Lake Cumberland and Dale Hollow State Resort Park.  Each October Albany hosts the Foothills Festival on the 3rd weekend of the month.  The "Longest Yard Sale" runs through Albany each year in August on U.S. 127.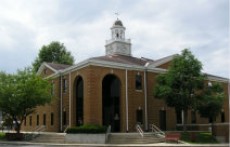 Clinton County Courthouse
100 S. Cross St.
Albany, Ky. 42602
Phone Number:
606-387-6424
or 606-387-8181
Fax Number:
606-387-8154
Hours of Operation:
Monday: 8 a.m. – 4 p.m. CDT
Tuesday: 8 a.m. – 4 p.m. CDT
Wednesday: 8 a.m. – 4 p.m. CDT
Thursday: 8 a.m. – 4 p.m. CDT
Friday: 8 a.m. – 4 p.m. CDT
Saturday: 8 a.m. – 11:45 p.m. CDT
Taylor Court Reporting Provides the Following: 
Deposition services, court reporters, legal video deposition services, conference rooms, interpreters, accurate and timely transcripts.
Taylor Court Reporting Kentucky is headquartered in Louisville, Kentucky and has offices in Lexington, Kentucky, too.  Taylor Court Reporting Kentucky serves clients across Kentucky and across the nation.
Taylor Court Reporters Kentucky:
Office Numbers:  
Telephone: (502) 671-8110 
Facsimile: (502) 671-8116
Mailing & Billing Address: 
Taylor Court Reporting Kentucky 
2901 Six Mile Lane 
Louisville, KY 40220
Louisville Court Reporters Office Address: 
Taylor Court Reporting Kentucky
312 S 4th St #700
Louisville, KY 40202
Lexington Court Reporters Office Address:  
Taylor Court Reporting Kentucky
2333 Alexandria Dr
Lexington, KY 40504
[/fusion_builder_column][/fusion_builder_row][/fusion_builder_container]