Taylor Realtime Court Reporters Kentucky

See what a realtime court reporter's feed can do for you at your next deposition.
Realtime technology allows the competent court reporter to instantly produce readable English text from their stenographic notes, thus allowing almost anyone instant access the written record.
It is the court reporter that produces readable realtime, not the technology. Court reporters must continually hone their speed and accuracy skills, forever working to improve their stenographic dictionaries to ensure that proper names, dates and places translate correctly.  Endurance and speed are essential to getting good realtime.  Court reporters take down testimony in excess of 200 words per minute, and therefore, must control the proceedings for quality realtime text.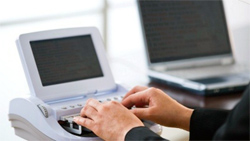 Realtime court reporting allows the reader to mark sections of testimony, make notes and review testimony in real time.  Simultaneous searches for specific testimony, including key words, are now easily achievable.
Applications for realtime reporting are endless.  Court reporters, using realtime technology, caption what you see on most television programming today.  The deaf and hard-of-hearing depend on realtime reporting for weather and disaster alerts, as well as in the judicial setting, where the latent-deaf may find it easier to read text than using ASL interpretation.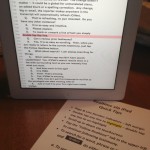 Not sure how to work with our iPads and our realtime translation feed, no problem, Taylor Court Reporters has got you covered.  We'll bring the iPads to the deposition and set them up for you.  We'll provide a cheat sheet with tips and tricks and guide you through its use.  Just let us know you need a little help and we'll be glad to get you up and running.
Taylor Court Reporters Kentucky
Contact Taylor Court Reporters Louisville Kentucky (KY) or Taylor Court Reporters Lexington Kentucky (KY) for further details or to schedule your realtime court reporter today.