Court Reporters | Nicholasville Kentucky | Video Depositions
Taylor Court Reporting Kentucky (502) 671-8110
N

icholasville Kentucky Court Reporters & Video will provide you with 

professional

 

court reporters

 and 

legal video deposition services

 in Nicholasville and the surrounding Jessamine County Kentucky area. Taylor Court Reporters Kentucky offers hyperlinked, OCR'd exhibits with our electronic 

E-Transcripts

, and can upload your transcript, exhibits, and videos to our 

iBinder Online Repository

 for your quick and easy retrieval,  Taylor Court Reporters videography team will shoot your deposition video and sync the video and text so you can easily create clips and PowerPoint presentations for clients, juries, mediators, or member of your trial team.
With our 

forty-plus years of experience

 serving the Nicholasville and Jessamine County area, we bring the convenience of a one-stop approach to all your litigation needs.
Jessamine County Circuit Court Clerk
Hours of Operation
Monday:   8 a.m. - 4:30 p.m.
Tuesday:   8 a.m. - 4:30 p.m.
Wednesday:   8 a.m. - 4:30 p.m.
Thursday:   8 a.m. - 12 p.m. Friday:
8 a.m. - 4:30 p.m. Saturday:
9 a.m. - 12 p.m. (Drivers License Only)
Address
Jessamine County Court Complex 107 N. Main St. Nicholasville, KY 40356
Phone Number
Circuit: 859-885-4531
859-887-1005
District:
859-887-1005
Fax Number
Parking
There is a public parking lot behind the building.
Two-hour parking is available on Main Street.
Information for Patrons
A handicap lift is available and handicapped parking is on
Main Street directly in front of the building.
Forms of Payment
Cash, certified check or money order.
Credit cards also accepted for all payments except bonds.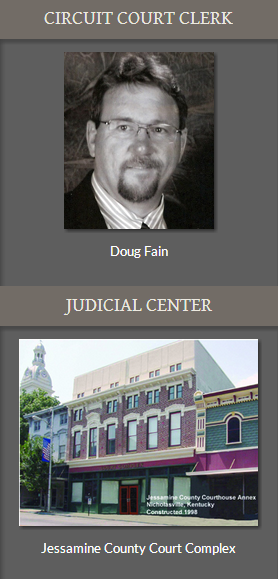 RESOURCES
Taylor Court Reporting Kentucky is headquartered in Louisville, KY and serves clients across the nation with NO TRAVEL FEES.
Deposition services, Nicholasville, Kentucky, court reporters, legal video depositions. accurate, and timely transcripts.
Taylor Court Reporters Kentucky will assist you in booking a deposition room in Nicholasville, KY.