If seeing is believing, and a picture is worth a thousand words, consider what a powerful tool video-to-text synchronization can be. Synchronizing video and text allows the jury to hear the vocal intonations and verbal pacing, as well as to see the body language of witnesses alongside the spoken word. With synchronized video, you'll never have to read a transcript into the record again. Just push "Play" and it's all there for the jury to see and hear.
Taylor Court Reporters KY, your Louisville KY court reporters, will present you with a trial-ready CD or DVD, allowing you to present to the jury the witnesses' spoken words on screen, which have been synched verbatim to the video presentation – a very powerful tool at trial. Synchronizing your digital video and transcript allows you to quickly search, edit and present video evidence. You can export segments, produce multiple clips from the video and create video montages. Each synchronized video we produce and ship to you can be played back on Westlaw's our free downloadable player or be imported into most popular trial management software applications such as Sanction and LiveNote.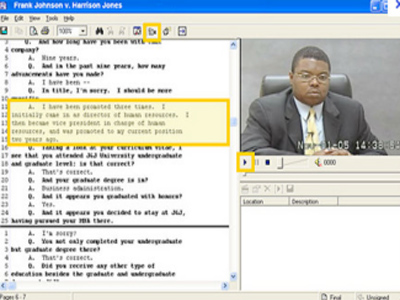 We  package the synchronized video together with pdf or tff exhibits for you to review, export to other trial presentation software, or present  directly in court.  We OCR these exhibits, creating for you exhibits that are now easily searchable using the OCR-generated alphabetical keyword index.
Taylor Court Reporting use's Westlaw's E-Transcript and Westlaw's Publisher for its video-to-text synchronization. We incorporate the synched video with the OCR'd exhibits, presenting you to a highly polished, flexible trial presentation tool.
Want to learn more?  To learn more, simply download and read West Publisher User's Guide.
If you have general or technical questions about West Publisher, call Customer Technical Support at 1-800-290-9378, Monday through Friday, 6:30 a.m. to 7:30 p.m. central time. You can also send an email message to west.livenote@thomson.com.